Murtala Muhammed Int'l Airport
There are around 40 airlines that fly from Lagos to over 60 destinations worldwide, carrying over 10 million passengers every year. Lagos has a domestic and international terminal. Carriers Arik Air, Nigeria Airlines and Aero Contractors have a hub here.
Click here to know more about the airport
Our stores at the airport
Lagos is Nigeria's most populated city, and its Murtala Muhammed International Airport carries out multiple national and international flights every day. Travelers who arrive at Lagos through this airport, which is one of the main entry points to the country, have the opportunity to acquire tax free products from leading brands at our Duty Free store.
Travelers from all over the world already shop at the Tax & Duty Free Main Shop at the Lagos airport. Here, you can choose from a variety of tax free products in our food section as well as in our beauty section, where you'll find cosmetic and make-up products from brands like Lancôme and L'Oréal Paris.
Travelers who wish to give a special gift should visit our fragrance section. Men's and women's fragrances by brands like Paco Rabanne, Tommy Hilfiger, and Dolce & Gabbana await you at very competitive prices thanks to the tax exemption on Duty Free stores. Our store at the Nigerian airport has extended opening hours. This way, travelers can shop and pick up their Reserve & collect orders without worrying about the time of their flight.
Next time you visit Nigeria and pass through the Murtala Muhammed International Airport in Lagos, we suggest you visit the Tax & Duty Free Main Shop and discover all our exclusive offers. Buying tax free tobacco and liquors is now easy thanks to our store at the airport. We hope to see you in Lagos!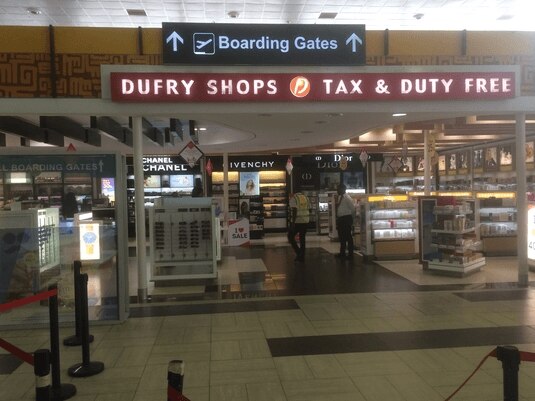 Main Shop
Location

Murtala Muhammed Int'l Airport, Ikeja, Lagos, NIGERIA.

Shop Categories

Food, Perfumes & Cosmetics, Tobacco, Alcohol, Fashion, Watches, Jewelry, Electronics and Souvenirs

Phone Number

+234(0) 1 440 6107

Email

contactus@dufry.com